Welcome to Cookbooks Australia
This website is owned, maintained and stocked by Judy Mather, a 'retired' RN / Midwife. It was set up in late 2008 as an offshoot of my main website, The Bookshelf of Oz, which offers a wide range of books, from Permaculture & gardening books to parenting guides plus a wide range of children's books, fiction, modern classics and books on Antique, Vintage and collectable items. Click here to visit The Bookshelf of Oz
Quite a few websites boast that they have the 'largest range of books available on the internet'. And then go on to warn that there may be delays of up to 6 weeks (or longer!) between ordering and receiving a book. I run my site differently - I hand pick every book I sell and they are all genuinely in stock unless noted otherwise beside the individual title. If a book is out of stock, it will usually be available again within a few days. There are currently over 800 cookbook titles listed and I'm adding more titles frequently. If you are searching for a particular title, please contact me - I may have it sitting here awaiting listing, or I may be able to locate it for you.
I started off selling a few of my own books online 7 years ago, and what began as an interesting pastime has developed into a more-than-full-time job. At the end of 2006 I quit my night-shift nursing job to concentrate on online retailing, setting up this website in mid-2007. I stopped selling on online auction sites in late 2008, and now spend most of my time building up my range of books on my own website and maintaining a high level of customer service for all my customers.
But that's probably enough from me about me. Here are some comments from a few of my happy customers. To date there haven't been any unhappy ones - honestly!
Thank you so much for fulfilling my order of the three books. They arrived safely in the mail this morning. I must congratulate you on your service and efficiency and will certainly have no hesitation in placing further orders with you nor recommending you to other people. Rhonda (QLD)
Hi Judy, A huge thank you.My brother (from UK) ordered some books from you for my daughter for Christmas.Delivery was first class but you even went to the trouble of wrapping it for me,you are just one in a million!!! Thank You once again. Jane (NSW)
Hi Judy,
I picked up the books at the Post office today. I can't wait to see the looks of surprise on the faces of my twin girls!! The Rainbow Magic books are so much nicer than the ones that are sold in the US. Also, thanks so much for the extra book!! I really appreciate your kindness. I am sure you will be hearing from me again to order more books!!
Thank you very much. It has been a pleasure working with you! Debra (USA)
Hi Judy,
Just a quick note to let you know that I have received my books, thanks.
I would like to say how delighted I am with your careful packaging ensuring the parcel arrived in pristine condition.
Maggie's book is wonderful. I am at work and find myself delving into it when I should be working!!
Thanks again, Irene (NSW)
Combining 2 of my favourite leisure activities - reading and camping.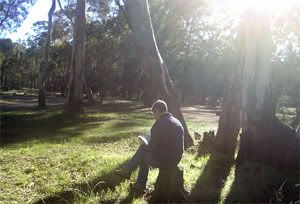 And if you're still reading, here's another photo of me, hard at work! Yes, that's a pink dressing gown I'm wearing.